Froman adjustable bed base will enhance your sleep and lounge.
Each base allows you to control adjustable bed frame with a wireless remote. USB ports are located on side of the adjustable bed base to keep your electronic devices easily charged and within arm's reach. Froman's adjustable bed base brings comfort, flexibility and luxury to your bedroom, with a 100% guarantee of the quality you deserve.
The height adjustable legs provide the adjustable bed more appreance. Put it into your existing bed frame. Adjust the bed legs according to the height of your exsiting bed frame.
The maximum back up angle to 65 degrees, bring more comfortable in daily leisure, such as watching TV,reading on the adjustable bed base, your back is more relaxed, meanwhile foot up to relieve the tired of standing or walking for long time
Get up from bed no longer difficult, those who have some difficulties getting up from bed, or people with waist pain, let electric bed frames to help you get up instead of your willpower or waist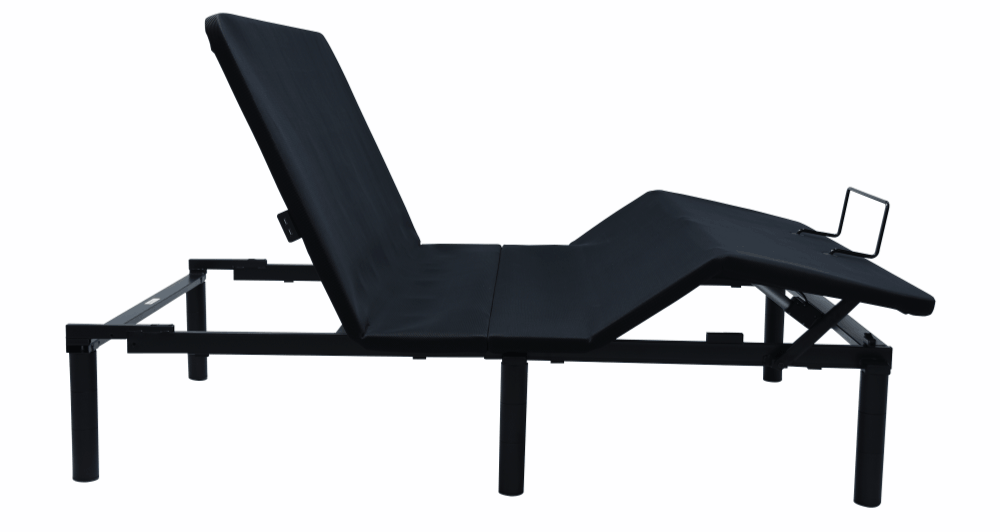 What is zero gravity?
Zero gravity position is an adjustable bed reclining to the back 17 degrees, foot 25 degrees, so to change your body gravity, relieve your shoulder, legs, back, or waist excess load bearing capacity cause pain. The slight angle of the back can also have a positive effect on digestive function, which can alleviate cholic acid reflux.
also if you think the ankle is not suit you, you can program to your personal zero gravity positon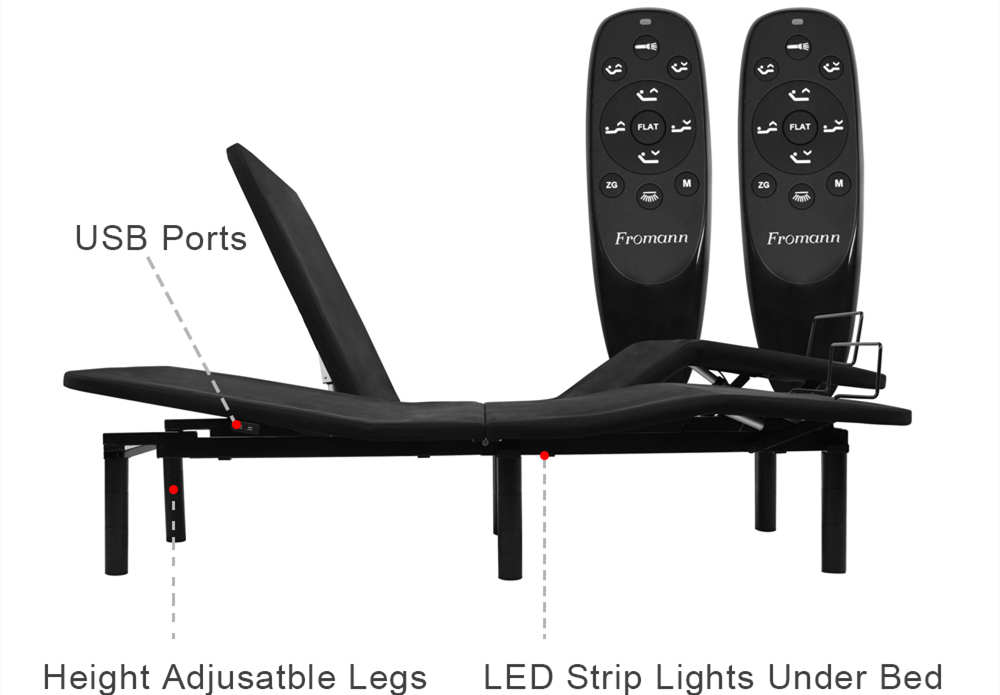 Customer always ask
Question: Can you use existing head, foot and side boards for a king bed with this frame, if you take out the slats
Answer: Yes, Fromann adjustable bed base is a bit little than normal size, designed to fit in existing bed frames
Question: are they come with mattress
Answer: no, mattress is not contain, frame only.
Question: Is any part of the base made with fabric? Is it fully metal?
Answer: Fully metal frame covered with thickened composite mesh fabric
Question: Is the top deck solid or upholstered metal grids?
Answer: Upholstered metal grids.

Question: Can you set the remote so that both sides move with one remote? Meaning, can I use this base on a non split king mattress?
Answer: Yes, split king bed has a sync cable, to connect two TXL beds, can be used for one remote to control two txl beds move like a king size.
Question: Does split king have 2 remotes and are they backlit
Answer: split king which comes with 2 remotes, but does not have backlighting. They can be synced if you like.
Question: Is the remote battery or usb charger?
Answer: The wireless remote contains battery.
Question: Will the motors have enough space to oprate if the legs weren't used,like placed on a platform bed
Answer: For queen bed, it can used without legs
For TXL and Split king, can't use without legs, you can use the lowest leg 3inch.

Question: What is height of frame without legs?
Answer: 2.5 inch for Twin xl & split king (not suit platform)
3.5 inch for Queen (suit platform)
Question: Does this bedframe work with a regular mattress or do I need a certain kind of mattress?
Answer: In general, all memory foam, latex, and any other non-innerspring mattress will work well with adjustable beds. innerspring which suit for adjustable bed is also work well with electric bed frames.
Question: what size mattress to get for the split king? would it be the twin xl for each side to make up the king size?
Answer: yes, two twin xl makes up the king size.
Question: Do you have side retainer bars
Answer: No, haven't side bars, we have foot retainer bar, and there's pre-drilled holes on the side for guard rails which need extra buy (queen have not pre-dirlled holes)
Question: What is the return policy
Answer: 30 days free Return for not used, original packaging bed